May 11-12, 2019
Uptown Moves
An inspiring new Canadian/International double-bill presentation featuring  Chasing the Path by Human Body Expression (Canada) and Tail Language by Art Project BORA (Korea).
Chasing the Path is a 60-minute quartet investigates the beauty and pain of memory. Choreographer Hanna Kiel taps into her personal experience of loss, asking how we move into the present while still feeling pain from the past. Dancers Luke Garwood, Kelly Shaw, Ryan Lee and David Norsworthy seek to connect the experiences, memory and life choices that make us who we are today.
Toronto Centre for the Arts
Saturday, May 11 at 8pm
Sunday, May 12 at 2pm
Click here to get your tickets!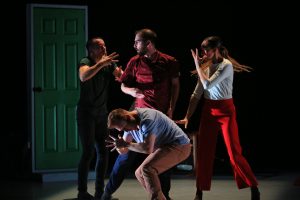 June, 2019
Chasing the Path in Korea
(info & dates coming soon)
September 25-29, 2019
Resonance
HBE's latest dance production, Resonance speaks to the power of evolution inspired by South Korea's most powerful political movement – the impeachment of now former president Park Geun-Hye in 2016. Intrigued by the successful act, this led choreographer, Hanna Kiel to question,
'What makes millions of people unite and act as one?'
'How does a populous revolution evolve?'
This fall, Kiel's new creation will come alive on stage. 
Resonance features live musicians in collaboration with a large cast of compelling performers that will transform the space into an unparalleled cultural experience. With acclaimed music composer, Greg Harrison at the helm, Resonance is a full-length production developed from, Tangled a work-in-progress which won the 2017 Audience Choice Award at dance: made in canada / fait du canada festival.

Choreographer: 
Hanna
Kiel
Composer: Greg Harrison
Mentor: Bonnie Kim
Sts Cyril & Methody Macedonian-Bulgarian Eastern Orthodox Church
Wednesday, September 25
Thursday, September 26
Friday, September 27
Saturday, September 28
SIGN UP TO HBE'S NEWSLETTER TO RECEIVE THE LATEST NEWS & UPDATES